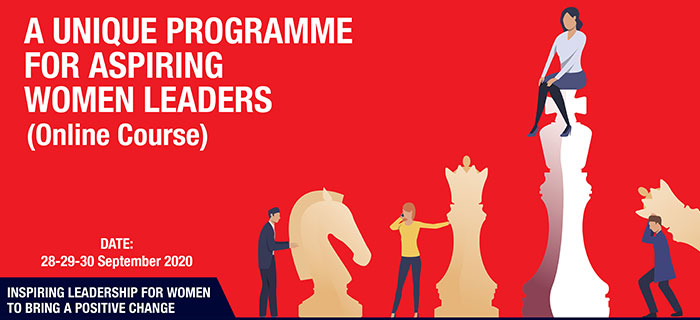 Are you a woman who believes you can excel in anything? Are you a woman who feels one is never too small to make a difference? Are you a woman who wants to be a leader in making others better with your presence, and making sure that impact lasts in your absence? Then this course is for you … Come join and get inspired to empower yourself to become a successful leader .
Learning objectives:
To raise self-awareness and gain self-confidence for a better leadership.
To understand emotional intelligence and the way it helps in building leadership
To know and apply the various leadership tools
To learn and experience mindfulness
To build resilience for the times of adversity
Skills gained from this course:
Leadership skills
Emotional Intelligence
Self-confidence
Negotiation skills
Work life integration
Anger management
Mindfulness
Who can attend
Women leaders from politics, NGO's, College Students, Healthcare Sector, Education sector, Banking and other sectors.
Age :  Above 18
Programme Dates: 28-30 September 2020
Programme Duration : 9 hours (over 3 days)
Daily two sessions of 1.5 hrs duration
Batch Size
Medium:
Fee Details
₹ 700 (inclusive of taxes)
Sorry, but this form is no longer accepting submissions.
Faculty
Dr. Swapna Patker, Psychologist and Management Expert
Dr. G. C. Kavitha, Counseller and Psychologist
Programme Coordinator(s)
For any query on this course please contact
Shailesh Gokhale, 8108955966 shaileshg@rmponweb.org
Ashutosh Mishra, 9167615266 ashutoshm@rmponweb.org
Kamlakant Pathak, 7991187134 kamlakantp@rmponweb.org