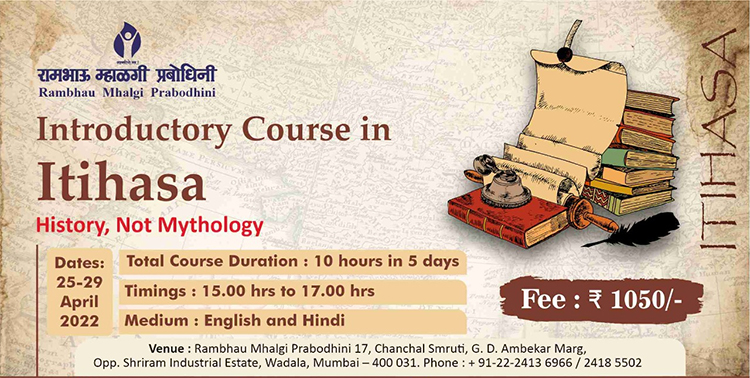 Itihasa and Puranas are collectivelly also referred as the 5th Veda. In Sanskrit, Itihasa means histpry, a description of important events that happened in the past in Hinduism. itihasa primarily includes the Ramayana and the Mahabharata.
This course is an attempt to introduce students to beyond the obvious aspects of Ramayana and Mahabharata by adding reelevant Pauranic content.
Over 265 related geographical locations are traced which are identifiable even today which would lead the participants to realise that our epics are not a piece of fiction but historical facts.
This course touches lesser-known stories like God Hanuman carrying a mountain with life-saving herbs not once but twice; and Mahabharata as a world War is vividly described with tribes like the Turkic-Greeks and Chinese siding with the Kauravas and so on.
Learning objectives:
Learn about the vast global geography of our history
Learn about many lesser-known facts
The so-called controversial questions are easily answered based on our scriptures
Who can attend
Anyone interested in having a wider understanding of our scriptures (Ramayana and Mahabharata).
Programme Dates: 25-29 April 2022
Duration: 10 Hours in 5 Days
Timings: 15:00 to 17:00 hrs
Batch Size:
Medium:
Fee Details
₹ 1050 (inclusive of taxes and a complimentary book Essence of the Fifth Veda worth ₹350)
Course Trainer: Gaurang Damani
Gaurang Damani is an Electronics Engineer. He believes if India wants to achieve material, cultural and spiritual progress, We must embrace the concept of dharma(One's duty) as beautifully described in the Vedic texts and considers himself blessed to have been able to read several Vedic scriptures and share the knowledge in the simple language. He is the author of Essence of the Fifth Veda.
Programme Coordinator(s)
For any query please contact
Yadunath Deshpande, 9340342698, yadunathd@rmponweb.org